CIA World Factbook - Wake Island


CIA World Factbook - Wake Island
CIA World Factbook - Wallis and Futuna


CIA World Factbook - Wallis and Futuna
CIA World Factbook - West Bank


CIA World Factbook - West Bank
CIA World Factbook - Western Sahara


CIA World Factbook - Western Sahara
CIA World Factbook - World


CIA World Factbook - World
The World Bank


The World Bank Group has two ambitious goals: ending extreme poverty and boosting shared prosperity.
The World Bank - Open Knowledge Repository


Search and browse thousands of publications from the World Bank
Warehousing
Directory list of warehousing services from around the world.
Weight conversion
Weight converter for weight conversion between different weight units. From kilograms, ounces, pounds, troy pounds, stones, short tons, long tons to any units.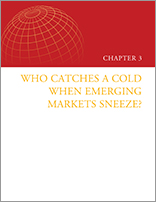 Who Catches A Cold When Emerging Markets Sneeze?


Since 2010, a synchronous growth slowdown has been underway in emerging markets. Given the size and integration with the global economy of the largest emerging markets, the BRICS (Brazil, Russian Federation, India, China, and South Africa), a slowdown in these economies could have significant spillovers to the rest of the world through trade and financial flows, according to the January 2016 issue of Global Economics Prospects.