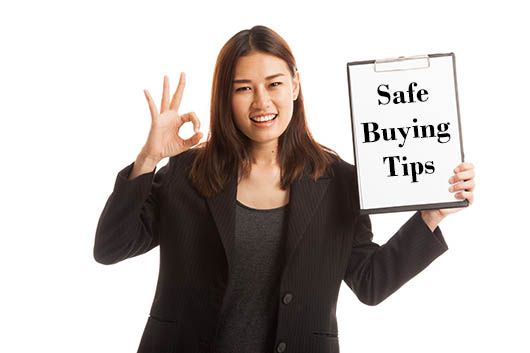 Fraud is an inherent risk in any business transaction, when trading either online or offline. While sourcing a supplier, the best way for buyers and sellers to reduce the potential for fraud is to conduct proper due diligence before entering into any transaction.
Things to Keep in Mind While Sourcing a Supplier
Negotiate with sellers, especially from China and India. When negotiating with a manufacturer, your goal should be to get a fair deal, not a good deal. If you try to squeeze the manufacturer's margins, there maybe a risk of manufacturer skimming on the quality of product. If the manufacturer couldn't deliver the product profitably, they can "disappeared".

Many "manufacturers"" are actually middlemen. You may not be dealing with the actual manufacturer.

Unless it is a specialized product, more than likely there are more than one manufacturer selling it. Search around and get a few prices and samples from different suppliers.

No matter how a supplier is designated by a B2B e-commerce web site, such as "Verified Supplier" or "Gold Supplier", there is no guarantee that they will not cheat you nor on the quality of their products. Hundreds of such companies get reported or removed from B2B web sites every day.

Always ask for samples and references. Manufacturers will almost always say they can make a product according to your specifications. But in reality is maybe one out of ten can actually do it. Don't take their word for it.

The minimum order quantity (MOQ) is usually negotiable. However, you may have to pay more per unit for a lower MOQ.
Start Your Research
Check supplier company information such as address, telephone, emails, web site, number of workers, company history and certifications.

Ask if the supplier have some customers in your country, and if you could contact them to get some feedback and references.

Avoid companies offering copies or fake brand products. If they are too good to be true, it probably is. Buying fake products will give you big problem when arriving at the customs.

If the supplier indicated that their product is genuine, then ask for copy of license. Note that you may need to check with the distributor in your country to ensure that the brand is not already exclusively licensed.

Ask for samples before making the order. This way, if there is any problem, you can ask them to fix it before the actual order.

Payment terms - LC, escrow or small deposit with balance against copy of BL. Do not pay with upfront bank transfer (TT) or Western Union as these type of payments are not protected. Be wary of sellers who only accepts Wester Union, MoneyGram or Bitcoin.

Visit the factory if possible. Alternatively you can send an inspection agent to do it for you.

Ensure the Proforma Invoice is clear in English, with all conditions and guarantees clearly stated.

Usually, a proper company will have it's own web site and email addresses. Their company emails will not be from Hotmail, Yahoo or Gmail. It will have something like [email protected]***.com from their company web site. Check their web site for proper company contact information and verify it.

Look up Foreign Trade Online's Global Supplier/Buyer Blacklist database which contains suppliers, buyers and companies from around the world that are listed due to fraud, scam, unresolved dispute or deceiving practices. You do not want to do business with any of the company listed. You can also search Google for the company and see if there is any complaints against it.

Government in China has published a complete list of companies and individual in China that have been convicted and defaulted on court order payment. The complete list can be found at http://zxgk.court.gov.cn/ Unfortunately, it is only available in Chinese.

Registration, credit and other information of Chinese enterprises can be checked at http://www.gsxt.gov.cn However, it is only searchable in Chinese.

China customs also has a credit publicity platorm of import and export business where you can check the credibility of import and export related business. (Chinese only).