Global Data Links


Global sources of trade information and other macroeconomic data maintained by governments and organizations around the world. These sites provide substantial amounts of data on exports and imports or on other macroeconomic measures, are authoritative or reputable (government ministries, central banks, major multilateral / international organizations, universities, eminent independent research bodies) and are up-to-date.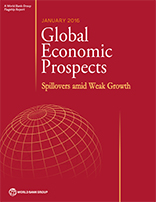 Global Economic Prospects


Report on global economic prospects with forecasts, outlook on the global economy and regional reports with extensive economic data and forecasts.

Global growth disappointed again in 2015, slowing to 2.4 percent, and is expected to recover at a slower pace than previously envisioned. Growth is projected to reach 2.9 percent in 2016, as a modest recovery in advanced economies continues and activity stabilizes among major commodity exporters, according to the World Bank's January 2016 Global Economic Prospects. Forecasts are subject to substantial downside risks. A more protracted slowdown across large emerging markets could have substantial spillovers to other developing economies, and eventually hold back the recovery in advanced economies. A broad-based slowdown across developing countries could pose a threat to hard-won gains in raising people out of poverty, the report warns.
Global Financial Development Report 2015/2016 : Long-Term Finance


Global Financial Development Report 2015/2016 is the third in a World Bank series. It provides a unique contribution to financial sector policy debates, building on novel data, surveys, research, and wide-ranging country experience, with emphasis on emerging markets and developing economies. The report's findings and policy recommendations are relevant for policy makers; staff of central banks, ministries of finance, and financial regulation agencies; nongovernmental organizations and donors; academics and other researchers and analysts; and members of the finance and development community.
Global Food and Agricultural Research Reports Database


USDA'S Global Agriculture Information Network (GAIN) provides timely information on the agricultural economy, products and issues in foreign countries since 1995 that are likely to have an impact on United States agricultural production and trade. U.S. Foreign Service officers working at posts overseas collect and submit information on the agricultural situation in more than 130 countries to USDA's Foreign Agricultural Service (FAS), which maintains the GAIN reports.
Global Patterns of U.S. Merchandise Trade


Global Patterns of U.S. Merchandise Trade (example: U.S. Chemical Exports and Imports for All Countries)
Global Survey on Trade Finance


Global Survey on Trade Finance is released every year since 2009. It provides an accurate snapshot of market trends, the ICC Global Survey enables bankers, traders and government officials to gauge global trade expectations.
Global Trade Information & Macroeconomic Data
Global Data Link - Global sources of trade and other macroeconomic data. (sorted by country)
Global Trends
Global Economic Prospects, World Development Report, International Debt Statistics, Global Financial Development and much from from the World Bank.
Glossary of Trade Terms
Glossary of international trade terms from A to Z
Greece - Athens Exchange


Athens Exchange