Elements of Global Marketing Success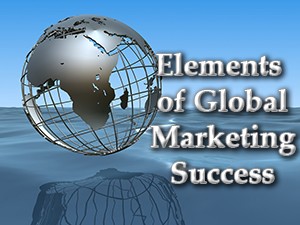 To be successful, it helps to know why so many export businesses do not succeed. Success cannot be rushed by high hopes. Rather, it comes incrementally.
Good Planning and Realistic Goals
Good planning and realistic goals are the primary keys to export and import success. An export plan is a road map used in reaching export goals.
In the case of exporting to offshore countries, new exporters must avoid the high expectation of completing a deal within the first three or four months of export operations. High expectations can breed profound frustration. It is not uncommon for export business deals to take more than six months to finalize. Some even take years.
Depth of Understanding the Foreign Cultures and Business Practices
The depth of understanding the foreign cultures and business practices separates export success from failure. Culture is not bad or better, it is merely different. Culture influences the product and service requirements and the business practices. Some business practices that are acceptable in the exporting country may not be acceptable in the importing country.
Reliability, Patience, Perseverance, and Hard Work
Without the buyers' trust, success would be impossible to achieve. Winning the confidence of the buyers is more important than quoting competitive prices. Be careful about the export commitment, stick to it once it is made. Broken promises erode trust. Reliability in fulfilling the contracts on time and at the desired level of quality is the best advertising tool.
Export endeavor is a continuous struggle for survival. It is full of ups and downs. It requires patience and perseverance. Being patient and persevering in the export endeavor is frequently rewarded disproportionately with sales contracts.
The success of an export business is often attributed to luck. Work harder and there will be more luck. The export success of Taiwan, China, Japan, South Korea, Germany and other countries (areas) is not a miracle, it is the result of hard work. The business miracle will not happen without working hard. However, success cannot be rushed by hard work.
Flexibility in the Product Modifications
Product requirements, like business practices, vary from country to country. Some products that sell well in the domestic market may not sell in foreign markets. Reasons for this could be different packaging and labelling requirements, specifications or consumer tastes. Product modifications, for example a change in the surface finish of a brass souvenir from the chrome-plating to the bronze-plating, can be costly in some countries. Some exporters may shun deals whenever product modification is involved.
Product modification is often necessary to meet foreign packaging and labelling requirements. Flexibility in meeting required modifications is essential to export success.
First to Identify the Emerging Needs
World markets change rapidly. Consumer needs for products and services change continually. For exports to be successful, it is vital to identify emerging consumer needs early and to offer product and service improvements to satisfy those needs. It is important to spot a new trend early and then lead it.
Sufficient Financial Resources
The up-front cost of exporting usually is high. It takes more time and resources to develop export markets. The payback can take longer, depending on the export market and the method and terms of export payment. Sufficient financial resources are necessary to sustain the export operation and to achieve export goals.
Winning Attitude
Have a winning attitude and the export business is more likely to succeed. Avoid misinterpreting over-optimism for a winning attitude. Over-optimism breeds irrationality. Irrationality leads to unrealistic goals. A winning attitude is a positive way of thinking and of doing things. It helps in winning the buyers' confidence in the exporter.