Dangers of Imbalance in International Trade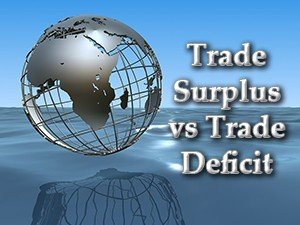 Trade surplus
- favorable balance of trade --- is an excess of exports over imports.
Trade deficit
- unfavorable balance of trade --- is an excess of imports over exports.
In layperson's parlance, the trade surplus means earn more and spend less, while the trade deficit means spend more and earn less.
The trade surplus and deficit is analogous to one person's fortune is another person's misfortune. The danger is imminent in either situation. A country with a record trade surplus is often threatened with sanctions and trade barriers from a deficit-ridden importing country. A country with a record trade deficit is usually faced with the internal social upheaval.
The imposition of trade barriers, such as import quotas and higher duties, is not a solution to meeting the international challenge. The trade barrier will be confronted with a trade retaliation. A trade retaliation will be faced with a counter-retaliation. The conflict will not end if an agreement is not reached. The remedy to beat the trade imbalance is to understand foreign cultures and business practices, and to provide competitive products and services.
It is a good practice to diversify export markets. Concentrating exports to only a few markets poses imminent danger to an exporting country. Too much export concentration in a market usually invites protectionist trade laws from the importing country. In case the importing country imposes sanctions, the effect to the economy of the exporting country and the livelihood of its people can be devastating.