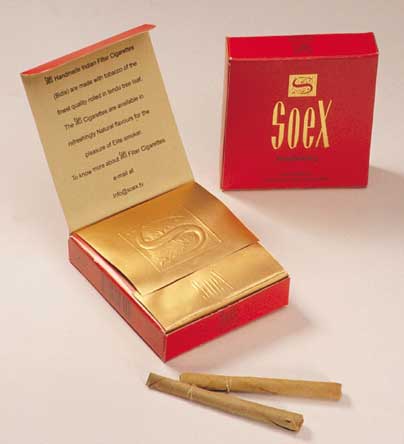 SOEX - Indian Handmade Cigarettes
| | |
| --- | --- |
| Price: | US$ 150 /carton |
| Minimum Order: | |
| Payment Terms: | Advance Payment |
| Port of Export: | |
Product Details
| | |
| --- | --- |
| Certification: | |
| Specification: | 75mm lenght cigarettes |
Packaging & Delivery
| | |
| --- | --- |
| Packaging: | |
| Delivery/Lead Time: | |
| Production Capacity: | |
Product Description
Indian handmand cigarette is an entirely natural product, made by filling shredded flavoured tobacco in Tendu leaf which is cut to size, then tied with a thin coloured thread, before being dried in a fire furnance. This process demoisturises the cigarettes and brings out their natural flavour.
SOEX cigarettes consists of right amount of tobacco, which gives perfect smoking satisfaction. SOEX cigarettes are mad under stringent quality control, ensuring the richest blend of tobacco and flavours.
SOEX cigarettes have a built-in cotton filter and are available in several flavours that capture the spirit of real taste. The ten new flavours available for immediate delivery are:
CHOCOLATE, MENTHOL, VANILLA, WILD CHERRY, STRAWBERRY, COFFEE, LIME-LEMON, RASPBERRY, CLOVE, BLACK LICORICE
SOEX will also be very soon introduce different exotic flavours such as coconut, fruits and spices.
SOEX introductory price is USD $150 per carton F.O.B. Bombay (Mumbai).
PACKING: Twenty cigarettes in one pack. Ten such packs in one box. Fifty boxes in one carton. Total 10,000 cigarettes.
AS AN INTRODUCTORY PROMOTIONAL SALES POLICY, WE ARE GLAD TO OFFER ONE CARTON SOEX CIGARETTES DELIVERED TO YOUR NEAREST AIRPORT, AS A FREE SAMPLE!!!!
This promotional trial offer will definitely assist you in assessing the response in your market and the benefits likely to accrue to you from the supply of SOEX cigarettes for our mutual symbiosis.
We are eager to do business with you. You are a valued customer, and if there is in any way we can assist you in making a decision, please feel free to contact us.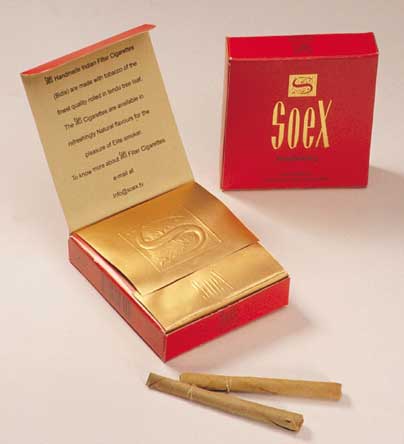 SUPPLIER PROFILE

Company:
Soex India Private Limited
City/State
Bombay, Maharashtra
Country:
India
Business Type:
Export - Manufacturer / Trading Company
Established:
1971
Member Since:
2002
Contact Person
Arif Sopariwala
SUPPLIER PROFILE
City/State/Country -
Bombay, Maharashtra
India

Business Type -
Export - Manufacturer / Trading Company
Established -
1971
Member Since -
2002
Contact Person -
Arif Sopariwala