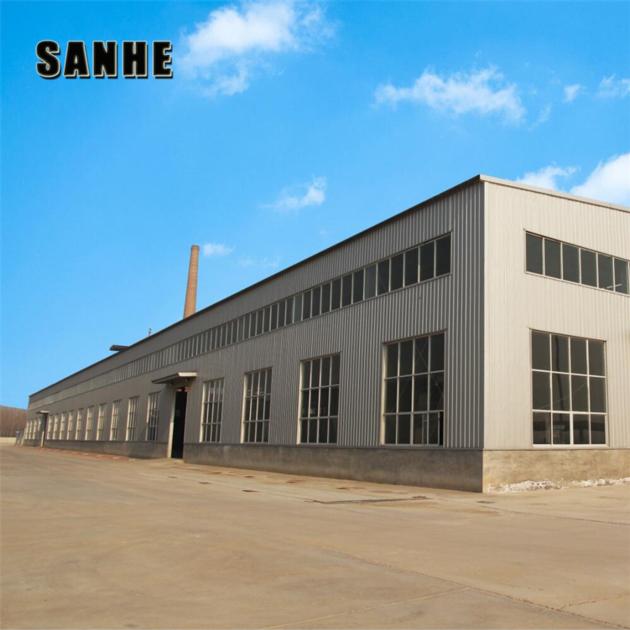 SANHE Custom Design prefab steel structure factory
Price:

US$ 35

/ Square Meter

Minimum Order:
500
Payment Terms:
TT
Port of Export:
TIANJIN
Product Details
| | | | |
| --- | --- | --- | --- |
| Model No.: | | Brand Name: | SANHE |
Certification:
SGS
Specification:
prefab steel structure factory is a new type of building structure system, which is formed by the main steel framework linking up H section, Z section, C section or U section steel components, roof and walls using a variety of panels and other components such as windows, doors, cranes, etc. Light steel structure building is widely used as warehouses, workshops, large factories, etc.

Steel Structure Workshop system has mild gradient, with one-way slope and single drainage area. It has characters of typical beam attached and mini roof Structures. The columns can be added in order to increase the space.

Width: No column: 18--25m, 1 column: 18--31m, 2 column: 35--46m, 3 column: 48--61m
Brim height3.7--7.5m
Roof gradient1: 48
Column space6m 7.5m 8m 9m
Rigidity, attached with the beam
Packaging & Delivery
| | |
| --- | --- |
| Packaging: | |
| Delivery/Lead Time: | 25 |
| Production Capacity: | |
Product Description
prefab steel structure factory is a new type of building structure system, which is formed by the main steel framework linking up H section, Z section, C section or U section steel components, roof and walls using a variety of panels and other components such as windows, doors, cranes, etc. Light steel structure building is widely used as warehouses, workshops, large factories, etc.
Steel Structure Workshop system has mild gradient, with one-way slope and single drainage area. It has characters of typical beam attached and mini roof Structures. The columns can be added in order to increase the space.
Width: No column: 18--25m, 1 column: 18--31m, 2 column: 35--46m, 3 column: 48--61m
Brim height3.7--7.5m
Roof gradient1: 48
Column space6m 7.5m 8m 9m
Rigidity, attached with the beam
Steel Structure Workshop can be used for kinds of building, which includes monospan steel frame, double-span steel frame and multi-span steel frame. It can assemble the crane. Fro portal steel frame light house steel construction, the formed steel sheet and cold bend thin wall purlins should be used as the roof. Steel column and steel girder of it should adopt welding H steel, which material are Q235 or Q345.
The load bearing parts for Steel Structure Warehouse are mainly steel structures, including steel columns, steel beams, steel structural basements, bracing systems for wall and roof. The Main Structure are usually made of Q345 Steel while the Purlin and Bracing System are made of Q235 Steel. They are the most common steel materials used for steel structure in China.
It can save time and can be installed in any weather. Also the house have advantage of fire-proof, heat/cold-insulation, non-shrinking and enlarge the work size and have little pollutions, we produce and install different kinds of light steel structure buildings which have a good framework. They are safe, easy to install and disassemble, also can be used multiple times without special tools. Special used in warehouse, workshop, temporary office, etc. We have an excellent designing team and we can produce according to the customers' requirements
Technical Parameters:
1. Main Steel Structure: Use build-up steel column, welded H-beam steel
2. Purlin: C-type steel
3. Roop panel: Single steel sheet or sandwich panel
4. Wall panel: The same to roof panel
5. Tie bar: Welded-round tube
6. Brace: Round steel
7. Column brace and lateral brace: Angle steel
8. Crane: 3T-30T
9. Angle brace: Hot-rolled angle steel
10. Edge: Color plate
11. Gutter: Stainless steel
12. Down pipe: PVC Pipe
13. Door: Sandwich-panel door or Rolling door
14. Window: Aluminum alloy window or PVC window
"Shijiazhuang Sanhe Steel structure Co., LTD." is professional manufacturer who is devoted to steel structure construction. We provide the whole set of services include making construction designs, producing products and installation.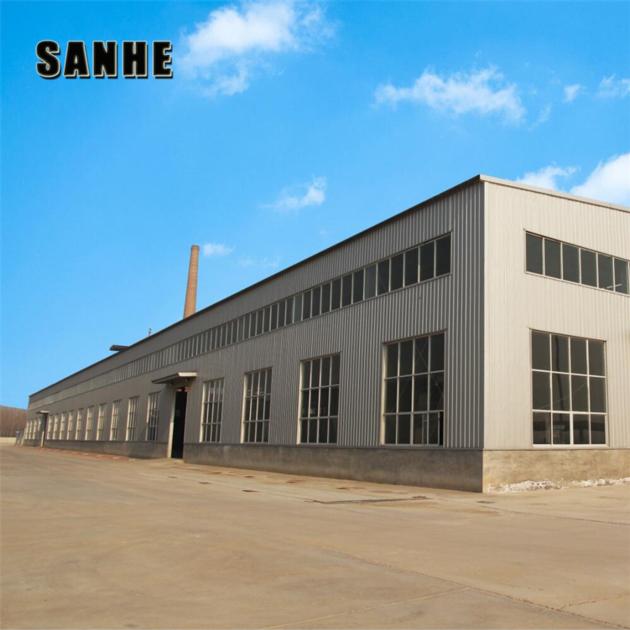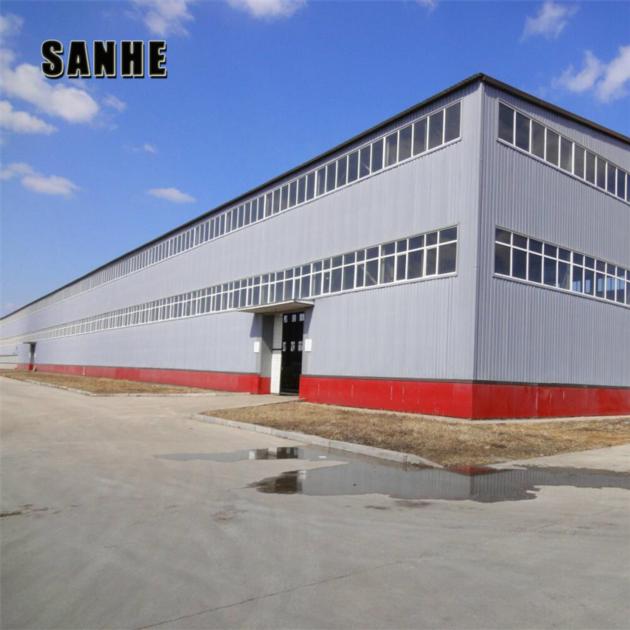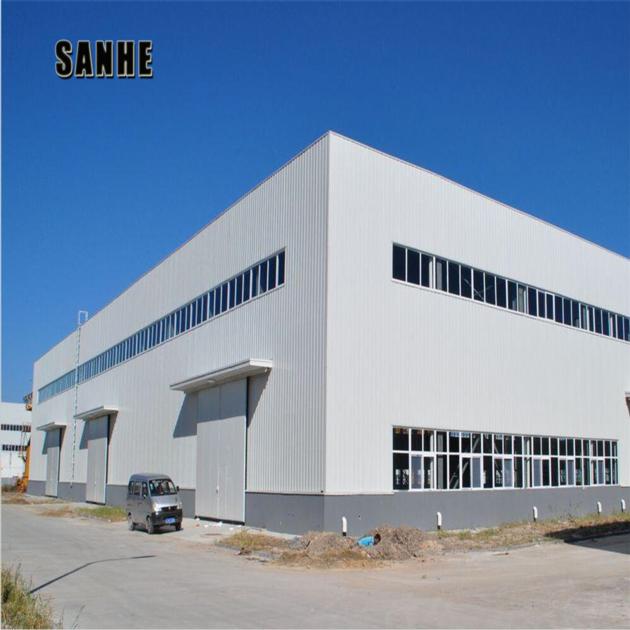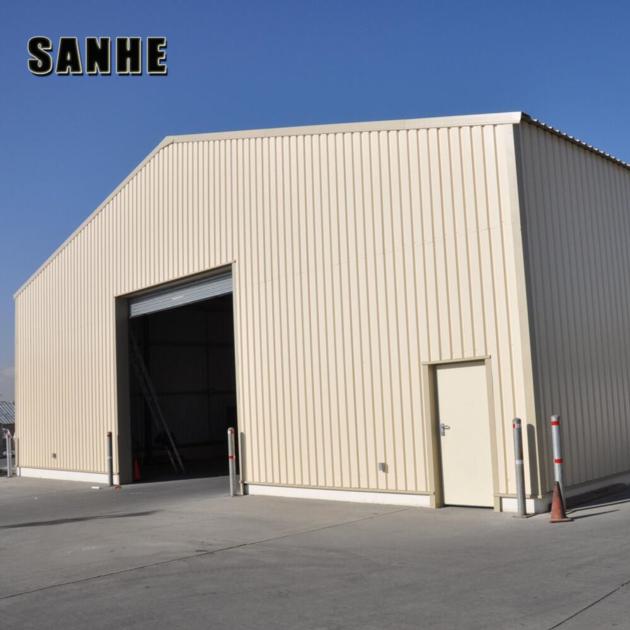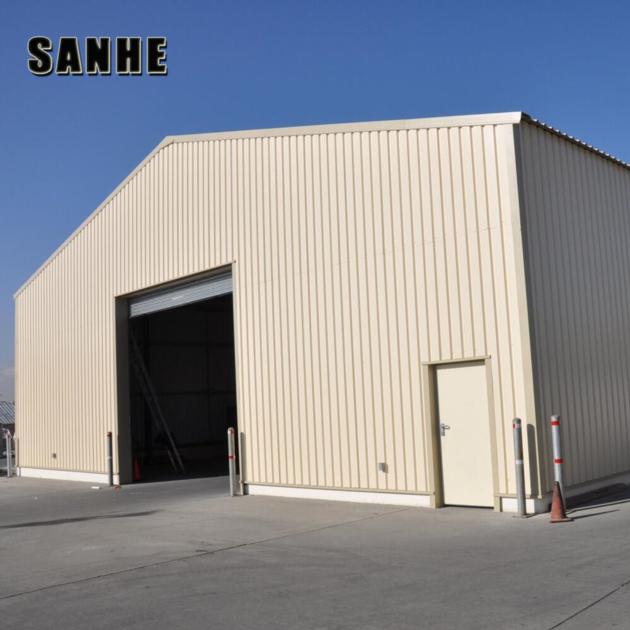 SUPPLIER PROFILE

Company:
Shijiazhuang Sanhe Steel Structure Co.,Ltd
City/State
Shijiazhuang, Hebei
Country:
China
Business Type:
Export - Manufacturer / Trading Company
Established:
2007
Member Since:
2019
Contact Person
peter sun
SUPPLIER PROFILE
City/State/Country -
Shijiazhuang, Hebei
China

Business Type -
Export - Manufacturer / Trading Company
Established -
2007
Member Since -
2019
Contact Person -
peter sun