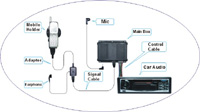 Professional Car Mobile Handfree System A
| | |
| --- | --- |
| Price: | Contact for latest price |
| Minimum Order: | |
| Payment Terms: | N/A |
| Port of Export: | |
Product Details
| | |
| --- | --- |
| Certification: | |
| Specification: | N/A |
Packaging & Delivery
| | |
| --- | --- |
| Packaging: | |
| Delivery/Lead Time: | |
| Production Capacity: | |
Product Description
Feature
Suits for most of Motorola, Ericsson, Nokia, Panasonic, Siemens cellular phones
An Innovative Idea : An Integrated Service Between Hand-free and Car Stereo.
No Clipped Words, Howling, Echo&Noise It contributes to the highest quality of dialogue than ever, since it combines hand-free kit and car stereo together.
Share of power Supply : Vehicle power can supply with cellular phone, as its power is in shortage.
Auto-Mute&Switch Detection Control: A circuit-control device is automatically to switch output of stereo to that of cellular phone while an incoming call is identified.
Space-Efficient:Placement for loudspeaker&power line of handfree kit will be free of consideration in this matter as car Hi-Fi system dominates it.
Automatic charge cellular phone while during operation.
Truly Full Duplex hands-free car kit using advanced DSP technology.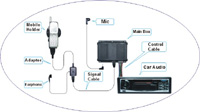 SUPPLIER PROFILE

Company:
SHENZHEN HRT ELECTRONICS CO., LTD
City/State
Shenzhen, Guangdong
Country:
China
Business Type:
Export - Manufacturer / Trading Company
Established:
1995
Member Since:
2001
Contact Person
Daniel Xiao
SUPPLIER PROFILE
City/State/Country -
Shenzhen, Guangdong
China

Business Type -
Export - Manufacturer / Trading Company
Established -
1995
Member Since -
2001
Contact Person -
Daniel Xiao