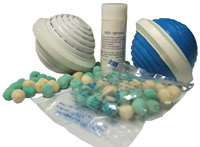 Laundry ball, Type C
| | |
| --- | --- |
| Price: | US$ FOB Shenzhen, China |
| Minimum Order: | |
| Payment Terms: | L/C at sight or T/T |
| Port of Export: | |
Product Details
| | |
| --- | --- |
| Certification: | |
| Specification: | N/A |
Packaging & Delivery
| | |
| --- | --- |
| Packaging: | |
| Delivery/Lead Time: | |
| Production Capacity: | |
Product Description
Laundry Ball, Type C
Used for washing any kind of color and texture clothing outside material
[Specifications & Features]:
Specification: round plastic ball, inner is packed with multifunctional washing balls
Diameter: 6cm
Weight of the ball: 100g/pc
Packing: 2balls/paper box (Fittings: 3bags multifunctional washing balls (30g/bag), 1piece stain stick, 30g.)
Gross weight: 350g/paper box
Net weight: 200g/2 balls
[Washing Elements]
Utilizing physical combined with chemical elements to wash clothing, adopting macromolecule activated solid granule and unique appearance design, slowly release during the course of washing, emulsify oil stain and generate excessive OH-. That increases PH of water and activates water molecule. Activated water molecule is easy to filter into the inside of clothing fibre and makes combination between filth and fibre loose. Under the stirring of washing machine, filth will be separated from fibre more quickly and scatter in the water, so as to reach the effect of cleanout.
[Advantages]
1. Inner is packed with solid gradual releasing wash granule, which does not contain harmful chemical element, such as phosphor and boron, etc.
2. Easy to use, strong cleanout capability. No harm to clothing and skin.
3. Can save water and electricity. The clothing after being washed is softener and more fragrant.
4. Can be used circularly and granules inside the ball are replaceable.
5. Reduce pollution of washing powder to human body and environment.
6. Reduce static and resist hypersusceptibility. Can be cleaned out at any temperature without soap remains.
7. Especially good effect for washing pure cotton, infant and womenÿ®s clothes.
8. Negative ions, far infrared, antibacterial and softening water functions.
9. Calculating according to washing volume of the washing machine is within 5kg, and washing one time per day, it can be used for 60times repeatedly.
Other types: type A, type B, type D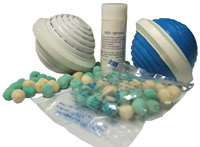 SUPPLIER PROFILE

Company:
Shenzhen Become Industry & Trade Co., Ltd.
City/State
Shenzhen, Guangdong
Country:
China
Business Type:
Export - Manufacturer / Trading Company
Established:
2004
Member Since:
2005
Contact Person
Hongfei Cheng
SUPPLIER PROFILE
City/State/Country -
Shenzhen, Guangdong
China

Business Type -
Export - Manufacturer / Trading Company
Established -
2004
Member Since -
2005
Contact Person -
Hongfei Cheng