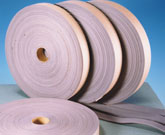 Colex Insulation Tape
| | |
| --- | --- |
| Price: | Contact for latest price |
| Minimum Order: | |
| Payment Terms: | N/A |
| Port of Export: | |
Product Details
| | |
| --- | --- |
| Certification: | |
| Specification: | 5mm thick x 65mm wide x 10 meters long |
Packaging & Delivery
| | |
| --- | --- |
| Packaging: | |
| Delivery/Lead Time: | |
| Production Capacity: | |
Product Description
Colex Insulation Tape is made of high-quality Colex PE Foam Insulation material, which provides quick and easy way to insulate pipes and fittings as well as the conjunction between Colex Sleeve and Sheet. By using Colex Insulation Tape, it is able to control the condensation from cold-water, chilled-water, as well as other cold pipelines. Besides, when apply our Colex Insulation Tape on hot-water lines, it will be able to retard the heat loss efficiently.
CharacteristicsÿG
1.Flexible, smooth and gray surface makes the insulated lines clean and looks skillful.
2.Closed-cell structure to keep low water absorption when the tape is wrapped appropriately.
3.Obstruct heat flow to keep cold and hot lines always in good insulation status.
4.Applied by release paper to peel off for wrapping easily and quickly.
5.Fits for any metal surfaces and capable to stick in place firmly to offer a long-lasting bond with metal surfaces, no any extra bands or adhesives will be rquired accordingly.
6.Supplied in strip form and good efficiency for FRP tank project.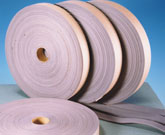 SUPPLIER PROFILE

Company:
Florex Insulation Co., Ltd.
City/State
Kaohsiung, Taiwan
Country:
Taiwan - Province of China
Business Type:
Export - Manufacturer / Trading Company
Established:
1978
Member Since:
2002
Contact Person
Mr. John J. H. Chen
SUPPLIER PROFILE
City/State/Country -
Kaohsiung, Taiwan
Taiwan - Province of China

Business Type -
Export - Manufacturer / Trading Company
Established -
1978
Member Since -
2002
Contact Person -
Mr. John J. H. Chen