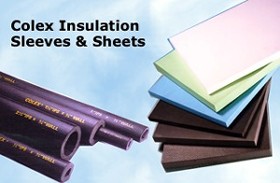 Colex Insulation Sleeve & Sheet
| | |
| --- | --- |
| Price: | Contact for latest price |
| Minimum Order: | |
| Payment Terms: | N/A |
| Port of Export: | |
Product Details
| | |
| --- | --- |
| Certification: | |
| Specification: | N/A |
Packaging & Delivery
| | |
| --- | --- |
| Packaging: | |
| Delivery/Lead Time: | |
| Production Capacity: | |
Product Description
Colex Insulation Sleeve & Sheet is made from polyethylene, corss-linkage agent and foaming agent in batch process under the condition of high pressure (about 2000 PSIG) and high temperature (about 150 to 200 degree C). Each micro foam cell is chemically bonded to form a tightly closed structure; therefore, our foam is 100% closed-cell and will not absorb moisture inside to cause condensation in the cell. Even exists under the pure oxygen or below the utmost low temperature (-196 degree C ) for years, the chemical bond of Colex foam will not be degraded. Consequently, it could be used over 30 years and its operation temperature range affords to endure from 100 to -196 degree C.
Furthermore, our Colex foam has the excellent floating ability on water. Even thrust by sharp material, the floating strength will not be reduced. It is rather suitable for the application on vessel and floating materials.
Characteristics :
1.Effective Control of Condensation
2.Elastic & Energy-saving
3.Zero Water Vapor Permeability
4.Zero Moisture Absorption
5.Zero Growth of Mold or Mildew
6.Able to wrap any shape of tanks, roof, or pipes
Application :
1.Engineering Insulation: Liquid Nitrogen pipelines and equipment, Ammonia refrigeration system, storage tanks, Brain water pipelines of plant, raw material pipelines and equipment of refinery and petrochemical plant
2.Air-condition Insulation: chilling waters, chillers, and ducts of air conditioner, etc.
3.Building Insulation: hot-water pipeline, roof, excrements drainage pipeline
4.Others: package, fishery, agriculture, toys, and sport equipment, etc.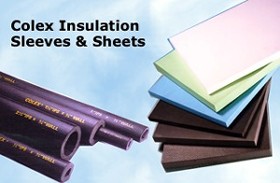 SUPPLIER PROFILE

Company:
Florex Insulation Co., Ltd.
City/State
Kaohsiung, Taiwan
Country:
Taiwan - Province of China
Business Type:
Export - Manufacturer / Trading Company
Established:
1978
Member Since:
2002
Contact Person
Mr. John J. H. Chen
SUPPLIER PROFILE
City/State/Country -
Kaohsiung, Taiwan
Taiwan - Province of China

Business Type -
Export - Manufacturer / Trading Company
Established -
1978
Member Since -
2002
Contact Person -
Mr. John J. H. Chen