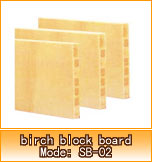 Block Board
| | |
| --- | --- |
| Price: | Contact for latest price |
| Minimum Order: | |
| Payment Terms: | N/A |
| Port of Export: | |
Product Details
| | |
| --- | --- |
| Certification: | |
| Specification: | N/A |
Packaging & Delivery
| | |
| --- | --- |
| Packaging: | |
| Delivery/Lead Time: | |
| Production Capacity: | |
Product Description
Sincere Blockboard is usually made of rectangular strips of softwood glued and bonded together under high pressure. Then these strips are sandwiched between a wood veneer, such as birch, poplar.
Sincere boards are totally kept plain and uniform through our cutting edge technology and special composing. Our utmost care is taken to get rid of gaps, overlapping or corrugation which eliminates the chance of opening up of the board when cut. Our blockboards are also totally withstood termite, borer and other wood destroying organisms. Your wall cabinets, cupboards, wardrobe and other furniture woodwork will gain outstanding strength and durability from our blockboard. It will be easier to work with them as they offer additional grip for screws and nails.
Dimension:
Core: poplar, combined hard wood, tung, fir, okoume etc.
Surface: Birch, okoume, poplar, etc. two sides sanded
Glue: MR. WBP. Melamine. E1. E2.
Dimension: 4X8¡«4X9¡«4X10 or 1220X2440/2740/3050/2400/2500
Thickness: 3/6/9/12/15/18/21ÿ?.36mm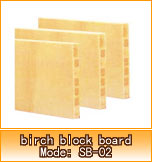 SUPPLIER PROFILE

Company:
Xuzhou Sincere Plywood Co., Ltd
City/State
Xuzhou, Jiangsu Province
Country:
China
Business Type:
Export - Manufacturer / Trading Company
Established:
2002
Member Since:
2006
Contact Person
Tao Gou
SUPPLIER PROFILE
City/State/Country -
Xuzhou, Jiangsu Province
China

Business Type -
Export - Manufacturer / Trading Company
Established -
2002
Member Since -
2006
Contact Person -
Tao Gou