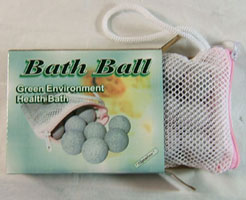 Bath Germanium Ball
| | |
| --- | --- |
| Price: | Contact for latest price |
| Minimum Order: | |
| Payment Terms: | FOB Shenzhen, China |
| Port of Export: | |
Product Details
| | |
| --- | --- |
| Certification: | |
| Specification: | 24-26mm |
Packaging & Delivery
| | |
| --- | --- |
| Packaging: | |
| Delivery/Lead Time: | |
| Production Capacity: | |
Product Description
Introduction of Bath Germanium Ball
According to the course of people's health care and physical therapy during bathing developed organic germanium ceramic ball. It is made of high purity and high quality organic germanium, tourmaline, maifan stone and additive various natural mineral substances by special formula and compounded with agglomeration techniques.
Organic germanium ceramic ball has high-efficient efficacy of far infrared physical therapy. At the same time germanium can drain toxin and waste out of the body, increase oxygen content of the blood, accelerate metabolism, strengthen the immunity, beauty the skin and keep the hair healthy.
Organic germanium ceramic ball can be used for various public places and household sauna, water cure, sand cure, stone cure and spa etc bath courses.
Ingredient Introduction:
According to material performance and preparation technique request, by importing germanium (GE132), electrode mineral material, and adding other mineral compositions which can increase antibacterial, emitted far infrared ray, discharged negative oxygen ions and supplemented microelement etc performances of the material.
Organic germanium ceramic ball adopts Ag, Cu, Zn, Ca and other oxides to reach antibacterial function.
Adopt electrode mineral (such as tourmaline material) to increase negative ions, emitted far infrared ray functions.
Adopt natural excellent maifan stone to supplement microelement.
Adopt high purity and high quality organic germanium element to reach functions of beauty skin and waste drainage.
Through massive experiments and optimized design, confirm best chemical composition of germanium ceramic ball as follows (weight percent, %):
SiO2: 66.23; Al2O3: 11.11; Fe2O3: 1.57; Na2O: 1.80; K2O: 4.78; MgO: 2.32; CaO: 5.98; ZnO: 4.38; B2O3: 1.08; Ge-132: 0.5, additive: remaining percent.
Composition:
Tourmaline: 30-35%, Maifan stone:10-20%,Muyu stone:5-10%, Multi-functional healthy ceramic material:5-6%, Far infrared powder:3-5%, Clay:35-41%, Sea-foam:5-7%, Germanium: 0.1-0.3%, Others: remaining percent
Types: Bath Radium Ball, Antibacterial Ball, Magnetized Ball, Massage Ball, Multifunctional Ceramic Ball etc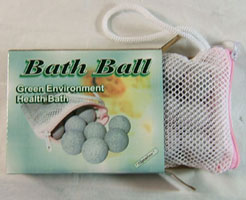 SUPPLIER PROFILE

Company:
Shenzhen Become Industry & Trade Co., Ltd.
City/State
Shenzhen, Guangdong
Country:
China
Business Type:
Export - Manufacturer / Trading Company
Established:
2004
Member Since:
2005
Contact Person
Hongfei Cheng
SUPPLIER PROFILE
City/State/Country -
Shenzhen, Guangdong
China

Business Type -
Export - Manufacturer / Trading Company
Established -
2004
Member Since -
2005
Contact Person -
Hongfei Cheng