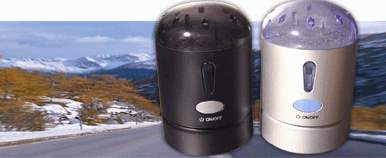 Air purifier
| | |
| --- | --- |
| Price: | Contact for latest price |
| Minimum Order: | |
| Payment Terms: | T/T or L/C at sight |
| Port of Export: | |
Product Details
| | |
| --- | --- |
| Certification: | |
| Specification: | CE ;FCC |
Packaging & Delivery
| | |
| --- | --- |
| Packaging: | |
| Delivery/Lead Time: | |
| Production Capacity: | |
Product Description
our website :www.synlinx.com
Catering to the increasing health-care awareness of the modern people, AP-280 is designed to improve the quality of the breathing air by incorporating functions of active carbon filter and negative ionizer. Cleaned and purified air can prevent allergy caused by filthy air eg. asthma, sinus. Medical studies show that cleaned and purified air helps calm agitated drivers and prevent traffic accidents.
Used with the adaptor for car, AP-280 is the best driving mate. AC adaptor is also available for use at home and in office. You will find new joyful feelings from breathing purified air in your car, office or room.
Function:
~ Air will be filtered by active carbon to remove odor in the air
~ Filtered air will be ionized at a rate of 0.3L/min
~ Negative ionized air emitted then sediments tiny and harmful particles in the the air
~ It can be used to cars, vans, sleeping rooms, study rooms and office . . .
Specification:
Power: 12V DC
Size: 56.7mm(D) x 72mm(H)
Weight: 130g approx.
Working Environment: -20 ~ 50 ýãC ( 4 ~ 122 ýãF)
R.H. : 80%
Working Space: 8 - 27 cube meter
Demonstration:
In this demonstration, the kit is divided into two sides. Air purifier unit is at off position in left side. Then smoke is being pump-into the demonstration kit. Both side of demonstration kit are filled with smoke. When the air purifier unit is switched on, left side with ionizer process slowly eliminate cigarette smoke. After 15 seconds, the air ionizer unit fully eliminates the smoke and effectively neutralizes the pollutant air in the left side. But, the right side without ionizer process still full of smoke and pollutant air.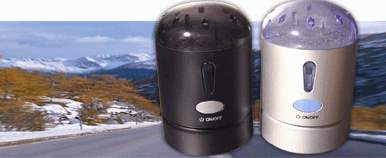 SUPPLIER PROFILE

Company:
Synlinx technology Co.,Ltd
City/State
Shenzhen, Guandong
Country:
China
Business Type:
Export - Manufacturer / Trading Company
Established:
2001
Member Since:
2003
Contact Person
Lidianwei
SUPPLIER PROFILE
City/State/Country -
Shenzhen, Guandong
China

Business Type -
Export - Manufacturer / Trading Company
Established -
2001
Member Since -
2003
Contact Person -
Lidianwei