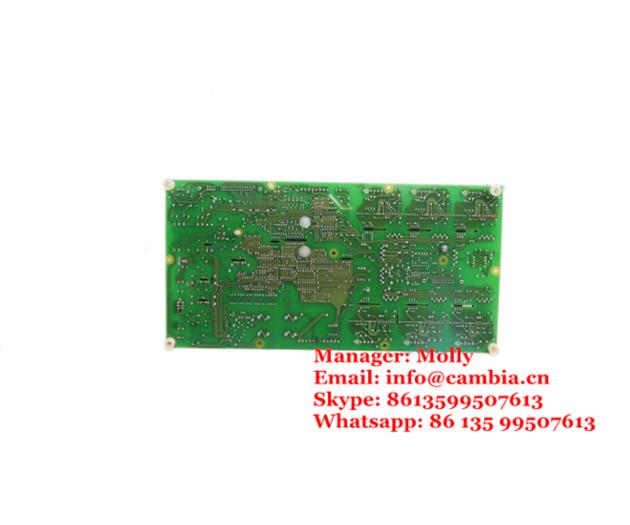 3BSE003879R1 ABB
| | |
| --- | --- |
| Price: | US$ 77 |
| Minimum Order: | 3BSE003879R1 ABB |
| Payment Terms: | tt |
| Port of Export: | 3BSE003879R1 ABB |
Product Details
| | | | |
| --- | --- | --- | --- |
| Model No.: | 3BSE003879R1 ABB | Brand Name: | 3BSE003879R1 ABB |
| | |
| --- | --- |
| Certification: | 3BSE003879R1 ABB |
| Specification: | 3BSE003879R1 ABB |
Packaging & Delivery
| | |
| --- | --- |
| Packaging: | 3BSE003879R1 ABB |
| Delivery/Lead Time: | 3BSE003879R1 ABB |
| Production Capacity: | 3BSE003879R1 ABB |
Product Description
3BSE003879R1 ABB
Today Recommend
3500/22M 138607-01 288055-01 , CP451-10 , 1756-L71
Contact Molly
Email: info*cambia.cn (* means @)
Skype: 86 13599507613
Cell: 86 135 99507613 (wechat whatsapp)
Honeywell History
The heart of the EUCN is Fault Tolerant Ethernet (FTE). FTE is a robust control network using commercial Ethernet
technology in a patented advanced networking solution. FTE provides multiple communication paths between nodes,
enabling an FTE network to tolerate all single faults and many multiple faults. FTE provides not only fault tolerance but
also the performance, determinism, and security required for TPN based control applications.
More Honeywell Products
51304544-100 Honeywell TDC 3000 Input Output Board (51304544-100)
51304584-100 Honeywell TDC 3000 Input Output Board (51304584-100)
51304584-200 Honeywell TDC 3000 Input Output Board (51304584-200)
51304584-300 Honeywell TDC 3000 Input Output Board for Z-Console (51304584-300)
Advantage Products
①Allen-Bradley(USA AB)Series
②Schneider(Schneider Electric)Series
③General electric(General Electric)Series
④Westinghouse Series
⑤SIEMENS Series
⑥ABB Robots. FANUC Robots、YASKAWA Robots、KUKA Robots、Mitsubishi Robots、OTC Robots、Panasonic Robots、MOTOMAN Robots
⑦Westinghouse: OVATION System、WDPF System、MAX1000 system spare part
Conversion、I/O Signal processing、Data communication systems Digital-to-Analogue 
⑧Invensys Foxboro I/A Series system ,FBM(I/O)SCS、Trapezoidal logic control、Accident recalling、DAC
Invensys Triconex: Redundant fault-tolerant control system、Most modern fault-tolerant controller based on Triple Modular Redundancy (TMR) architecture.
⑨Siemens:Siemens MOORE, Siemens Simatic C1,Siemens CNC system.
⑩Bosch Rexroth:Indramat,I/O module,PLC controller, Driver Module
Hot selling
3HAC021905-001 ABB
3HAC021905-001/05 ABB
3HAC024322-001 ABB
3HAC024322-001/01 ABB
3HAC028954-004 ABB
3HAC028954-004/03 ABB
3HAC031683-004 ABB
3HAC14549-3 ABB
3HAC14549-3/10A ABB
3HAC14550-4 ABB
3HAC14550-4/09A ABB
3HAC14551-2 ABB
3HAC17484-8 ABB
3HAC17484-9 ABB
3HEA800906-001 ABB
3500/94-09-02-00
3500/94-09-03-00
3500/94-10-00-00
3500/94-10-01-00
3500/94-10-02-00
3500/94-10-03-00
3500/94-11-00-00
3500/94-11-01-00
3500/94-11-02-00
3500/94-11-03-00
3500/94-12-00-00
3500/94-12-01-00
3500/94-12-02-00
3500/94-12-03-00
3500/94-13-00-00
Contact Molly
Email: info*cambia.cn (* means @)
Skype: 86 13599507613
Cell: 86 135 99507613 (wechat whatsapp)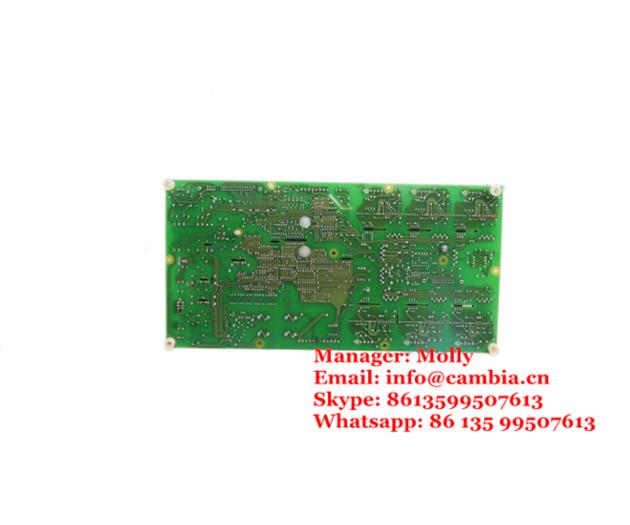 SUPPLIER PROFILE

Company:
Cambia Automation Limited
City/State
xiamen,
Country:
China
Business Type:
Export - Manufacturer / Trading Company
Established:
NA
Member Since:
2019
Contact Person
Emma CHEN
SUPPLIER PROFILE
City/State/Country -
xiamen,
China

Business Type -
Export - Manufacturer / Trading Company
Established -
NA
Member Since -
2019
Contact Person -
Emma CHEN