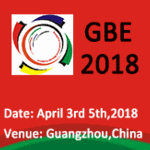 Guangdong Grandeur International Exhibition Group
| | |
| --- | --- |
| Date: | Apr. 03, 2018 - Apr. 05, 2018 |
| Venue: | Guangzhou Pazhou · China Import and Export Fair Complex |
| Address: | Gungzhou |
| City, State/Prov.: | Guangzhou, Guangdong |
| Country: | China |
Show Details
| | | | |
| --- | --- | --- | --- |
| No. of Exhibitors: | | No. of Attendees: | |
Trade Show Information
Review of GBE 2017
Exhibition Floor: 9000 sq.m
Visitors: 12,000 person-times (85% were professional buyers;15% were relevant field buyers;65% placed orders on site;73% were from upper or middle management)
Exhibitors:500 booths
Why GBE2018
No.1 Billiards Trade Fair:The success of previous 11 sessions ensures GBE as one of the most attractive trade fairs in Billiard field worldwide. GBE,an excellent platform for worldwide billiards enterprises to improve brand valuation, showcase the latest products and technology as well as a pageant for professional buyers to seek top-notch suppliers. Besides, GBE owns numerous loyal visitors worldwide and over 100 professional media partners helping us promote the show globally. It is estimated that visitors of more than 15,000 person-times from over 100 countries and regions will set foot in the exhibition hall.
Famous exhibitors of GBE
GBE owns the worldwide top billiard exhibitors, including Shender, Wiraka, Rasson, Predator Group (USA),Lucasi(USA), Iwan Simonis S.A./Saluc S.A. (Belgium), Longoni Cues Italy, McDermott Cues (USA), Aramith Ball (Belgium), WSP Textiles Ltd(Strachan 6811)(UK), Ball Teck Korea(Hanbatt Co., LTD.), Billplex co., Ltd-Korea,Billking - Korea,Bachmann Kunststoff Technologien GmbH-Germany, Peradon(UK),Norditalia Ricambi srl(Italy),Palko Pty Ltd (Australia), Master Cues, Fury Cues, Cyclop Pool Balls (Taiwan),etc.
Exhibitors' new products yielding good response:Exhibitors' latest products did not only captivate visitors with their novelty but also utility. After offering free trial of their latest products to on-site buyers, professional players and billiards enthusiasts, most our exhibitors enthused that they had receive many positive feedback and response from visitors, as well as hundreds of inquiries from potentials clients. Again, GBE proved itself to be a wonderful platform for new product release.
GBE 2018 Welcome all insiders !
If you want to be an exhibitor to show your newest products, do not hesitate to join us! Pls contact Ms.Amy Lai at gbeexpo@yeah.net to get the best price and preferable booth.
If you are interested to be a visitor, pls contact Ms.Amy Lai to receive your free E-ticket for the 3-day show.
Exhibitors Information
Exhibition Scope
Billiards Products: Billiards Tables, Cues, Billiards Slate, Billiards Cloth, Balls, Cue Cases, Chalk, Gloves, Billiards Lights, Billiards prokets, Cue Tips, Scoreboard, Tripod, Accessories, hardware fittings for billiard table, ect.
Others: Darts, Darts Board, Shuffleboard, Games and Amusement products,ect.
Attendee Information
Target Visitor
Agents, distributors, dealers, importer, exporters, manufacturers, wholesalers at home and abroad, etc,
Large billiards clubs, recreation centers, fitness clubs, etc,
Persons in charge of upscale clubs, starred hotels, hotel purchasing, investment management companies, etc,
Government departments, schools, trade organizations, associations, media, enthusiasts, etc.
Show Contact
Contact:
Y.Y Chu
Telephone:
02029188160
Fax:
ORGANIZER PROFILE
City/State/Country -
Guangzhou, Guangdong
China

Business Type -
Trade Shows Organizer
Established -
NA
Member Since -
2010
Contact Person -
Y.Y Chu