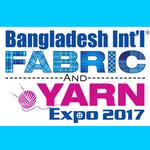 Bangladesh Int'l Fabric & Yarn Expo 2017
| | |
| --- | --- |
| Date: | Nov. 30, 2017 - Dec. 03, 2017 |
| Venue: | International Convention City Bashundhara (ICCB) |
| Address: | Kuril Bishwa Road, Purbachal Express Highway, Dhaka 1229, Bangladesh |
| City, State/Prov.: | dhaka |
| Country: | Bangladesh |
Show Details
| | | | |
| --- | --- | --- | --- |
| No. of Exhibitors: | 400 | No. of Attendees: | 5000 |
Trade Show Information
With continuous success in Previous 9 editions of Fashion Apparel & Ready Made Garments (RMG) expo, RedCarpet365 Limited brought to you, a well defined Exhibition on Yarn, Fabric & Accessory Manufacturers, Exporters & Suppliers, Branded as Bangladesh Int'l Fabric & Yarn Expo 2017, from 30 November to 3 December 2017 at International Convention City Bashundhara - ICCB, Dhaka – Bangladesh. Yarn, Fabric & Accessories Manufacturer, Suppliers & Exporters from Home & Abroad will participate at this mega exhibition. We are focusing on participants from entire Asia, Europe & USA. Bangladesh is the 2nd largest exporter of Garments in the world & it needs quality Yarn & Fabric at best Price. This expo will help Foreign Manufacturer & Suppliers to Showcase their products, where Bangladesh Textile Factory Owners & Apparel Exporters can get in touch with them. This Event will obviously encourage local manufacturers & producers to export their goods in foreign markets. Foreign buyers will also visit to check new trends & quality Yarns & Fabrics.
Over 4500 garment factories with 4.5 million workers, Garment & Textile industry of Bangladesh is in the steady way of success. Bangladesh is moving forward with a vision to achieve US$50 billion worth of apparel export by 2021. In 2014-15 fiscal, Bangladesh exported garment items worth $25.50 billion and the earning from garment export during first 11 months (July-May) of the current fiscal year is $25.08 billion. Only 5 items including SHIRTS, T SHIRTS, TROUSERS, JACKETS & SWEATERS covered 78.59% of the total garment export earnings at $25.50 billion in 2014-15 fiscal. These 5 items will obviously need quality RAW Materials of Yarns & Fabrics.
This exhibition will also focus on the untapped markets that are flexible & important for Bangladesh. Targeting the entire Textile, Garment & Apparel industry of Bangladesh, we have 2 more concurrent exhibition with this, named as Bangladesh Int'l Garment & Texstyle Expo 2017 (BIGTEX 2017) – an international exhibition on Garment & Textile Machinery, Equipment & Technology Manufacturers, Exporters & Suppliers & Bangladesh Int'l Dyes, Pigments and Chemicals Expo 2017 - an Int'l Exhibition on Dyes, Dyestuffs, Pigments and all kind of Chemicals Manufacturers, Exporters & Suppliers.
Besides, the participants will be able to identify business contacts with prospect of entering into subsequent business negotiations, So it's time to roll up our sleeves and use above discussed opportunities by presenting Bangladesh Int'l Fabric & Yarn Expo 2017 in the Heart of Dhaka City.
Exhibitors Information
Wide-ranging Choice of Quality Yarn, Fabric, Fibers & accessories with added Value.
Fabrics (Woven & Knit)
• Man-made / Synthetic
• Knitted Fabrics
• Denim of all types
• Cotton twills and drills
• Embroidered
• Natural and blended fibers in woven and knits
• Fine yarn-dyed shirting
• Wool, polyester-wool and polyester-viscose suiting
• Pure and blended linen
• Silks
• Digitally printed & More…
Fiber
• Natural (Cotton, wool, silk & flax/ramie)
• Man-made (regenerated & synthetic)
• Specialty & More… Yarns (Woven & Knit)
• Acrylic, Brushed, Cabled, Carded, Coated, Combed, Cotton, Dyed, Elastic, Core, Fancy, Lace, Linen, Nylon, Organic, Polyester, Ring, Spun, Silk, Synthetic, Textured, Twisted, Wool
• Natural & Blends (Cotton, wool, silk & linen/ramie)
• Man-made & Blends
• Specialty & More…
Denims
• Denim
• Cotton Denim
• Cross-hatch denim
• Denim Yarns
• Dry / Coated / Denim
• Denim Accessories
• Fashion denim
• Linen denim
• Raw / Open End Denim
• Poly / Ramie Denim & More… Accessories
• All types of buttons, buckles, studs and eyelets
• Elastic, tapes and ribbons
• Laces and lace materials
• Zippers and fasteners
• Lining and interlining
• Labels, tags, barcodes, badges
• Hangers, mannequins and packaging material
• Motifs, Piping
• Pocketing Fabric
• Sequins, beads and crystals
• Sewing and embroidery threads
• Threads, Toggles, Trimmings
• Transfers, tassels & More…
Services
• CAD/CAM/ERP/PLM
• Quality Assurance, Testing, QC
• Technology Solution Providers
• Consultants
• Trade Publications
Attendee Information
Bangladesh Int'l Fabric & Yarn Expo 2017 –looking forward to visitors from entire Bangladesh & Neighboring countries from different sectors like
• Members of Bangladesh Garment Manufacturers & Exporters Association ( BGMEA )
• Members of Bangladesh Knitwear Manufacturers & Exporters Association ( BKMEA )
• Members of Bangladesh Textile Mills Association (BTMA)
• Marketing Chiefs, Professionals and Consultants
• Textile & Garment Machinery Importers & Exporters
• Senior Management of large retailers, purchasing/procurement Heads
• Apparel Brands & Fashion Labels , Apparel Domestic Manufacturers
• Distributors & Agents of Textile & Garment Machinery & Accessories
• Buying Houses & Agents, Buying missions from neighboring regions
• CEO, Engineers, and Technocrats
• Dealers of Textile & Garment Accessories
• Design Studios & Institutes
• Fashion Designers & Merchandisers
• Knitting Manufacturers
• Textile Agents, Distributors, Manufacturers
• Trade Associations, Trade Body Representatives
• Wholesalers & More…
Show Contact
Contact:
Ahmed Imtiaz
Telephone:
+8801819863286
Fax:
ORGANIZER PROFILE

Company:
RedCarpet365 Ltd
City/State
Dhaka,
Country:
Bangladesh
Business Type:
Trade Shows Organizer
Established:
NA
Member Since:
2015
Contact Person
Ahmed Imtiaz
ORGANIZER PROFILE
City/State/Country -
Dhaka,
Bangladesh

Business Type -
Trade Shows Organizer
Established -
NA
Member Since -
2015
Contact Person -
Ahmed Imtiaz