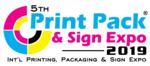 5th Bangladesh Int'l Printing, Packaging & Signage Expo 2019
| | |
| --- | --- |
| Date: | Nov. 07, 2019 - Nov. 10, 2019 |
| Venue: | International Convention City Bashundhara (ICCB) |
| Address: | Kuril Bishwa Road, Purbachal Express Highway, Dhaka, Bangladesh |
| City, State/Prov.: | Dhaka |
| Country: | Bangladesh |
Show Details
| | | | |
| --- | --- | --- | --- |
| No. of Exhibitors: | 250 | No. of Attendees: | 10500 |
Trade Show Information
After getting tremendous response from previous editions, RedCarpet365 Ltd is organizing 5th Bnagladesh Int'l Printing, Packaging & Signage Expo 2019, from 07 to 10 November 2019 at International Convention City Bashundhara - ICCB, Dhaka – Bangladesh. PrintPack connects Screen Printing, Digital Printing, Textile Printing, Sublimation Printing, Packaging, AOP (All over Printing) and Signage Machinery, Equipment, Technology & Accessories - Manufacturer, Dealer & Supplier from Home & Abroad. Targeting the entire Printing & Packaging industry of Bangladesh, PrintPack have 3 concurrent expos named as 5th Bangladesh Int'l Garment & Textile Machinery Expo , 5th Bangladesh Int'l Fabric & Yarn Expo & 5th Bangladesh Int'l Dyes, Pigments & Chemicals Expo .
In Bangladesh, there are more than 7500 printing press among of them 3,000 in Dhaka. Bangladesh export Printing product to countries like USA, Australia, Sri Lanka and Pakistan. Almost 2000 printing houses are capable of competing with foreign printing houses. The current market size of the printing industry is over 3000 crores and out of which 156 crores is export oriented. More than 0.4 million people are engaged in this sector. On the other hand, Another growing sector in Bangladesh is All Over Printing (AOP). The future of digital textile printing to 2021 confirms that this industry segment will continue to see double digit strong growth across the 2016-2021 periods. A total of 870 million square meters of fabric were printed on digital equipment in 2016 and was worth US $1.29 billion.
Garments Accessories & Packaging Industry of Bangladesh act as a backward linkage industry of RMG sector, which earned valuable foreign exchange of US$ 6.70 billion during the financial year 2016-17. If the sector gets policy support and cooperation from government, the earning of this sector is likely to increase up to US$ 12 billion by the end of 2019, and to US$ 18 billion by the end of the year 2025. Total investment of this sector is about US$ 30 billion & value addition is near about 40 percent.
Keeping in concern the High Demand of "Made in Bangladesh" products, we have to keep this growth in continuation basis and need proper Printing, Packaging & Signage supplies at Best Price.
This exhibition will also focus on the untapped markets that are flexible & important for Bangladesh. Besides, the participants will be able to identify business contacts with prospect of entering into subsequent business negotiations, So it's time to roll up our sleeves and use above discussed opportunities by presenting 5th Print Pack & Sign Expo 2019 in the Heart of Dhaka City.
Exhibitors Information
Who can Participate in this Fair – Profile of Exhibitors
Wide-ranging Choice of Quality Screen/ Digital/ Textile/ Sublimation Printing, Packaging, AOP (All over Printing) and Signage Machinery, Equipment, Technology & accessories with added Value.
Print
Digital Printing
Sublimation Printing Machine
Transfer Printing Machine
Embroidery machinery and consumable suppliers
Screen printing machinery
Digital Apparel Printers
Laser Printing, Latex Printing
Specialty Printing
Engraving Machines
Heat Transfer Printing
Inkjet Printing
Large Format Printing
Letterpress Printing
Offset & Online Printing
Packaging Printers
Ink, Materials & Accessories
Labels / Continuous Form Printers
Pad printing machinery & inks manufacturers
Pre-press and design software suppliers
Silk Screen Printing
Software Solutions & Supporting Services
Trade services providers
T-shirt printing machinery
Inks manufacturers
UV Printers
3D Printing
Card / ID Printing
Packaging
Garment Packaging
Bag Making Machinery
Beverage Packaging
Corrugated Cardboard Packaging
Cutting & Folding Machinery
Foam Packaging
Food Packaging
Aluminum Packaging
Glass Packaging
Industrial Packaging
Labeling and Bar-coding
Metal Packaging
Packaging Material & Supplies
Paper & Cardboard Packaging
Plastic Packaging
Signage
Eco Solvent & Photographic Printers
UV Printers
UPS/Inverters
Acrylic sheets
Flex
Flute Board sheets
Inkjet Materials
Inks (Solvent/Inkjet/UV/Textile)
Banners & Posters Stand
Digital Signage
Flatbed Cutting System
Interactive Technology – Gesture / Touch
Laser Cutting Machines
LED / LCD Displays & Signage
Mobile Signs
Outdoor Signage
Retail Displays / Signage
Sign-Making Equipment
Media and Substrates Manufacturers
Neon and LED's
Non-printed signage
Finishing equipment suppliers
Signage suppliers
Signage and Displays Printing
Channel lettering
Cleaning products, chemicals & adhesives manufacturers & More…
Attendee Information
Who can Visit this Fair – Profile of Visitors
Print Pack & Sign Expo 2019 – looking forward to visitors from entire Bangladesh & Neighboring countries for different sectors like
Prepress Equipment, Digital Image Capture Equipment, Digital and Traditional Presses, Wide Format Inkjet Printers, Bindery and Finishing Equipment, Converting Equipment and Supplies, Media and Substrates, Chemicals & Supplies, Services to the Trade.
Marketing Chiefs, Professionals and Consultants
Textile & Garment Factory Owners
Senior Management of large retailers, purchasing/procurement Heads
Apparel Brands & Fashion Labels , Apparel Domestic Manufacturers
Distributors & Agents of Textile & Garment Machinery & Accessories
Buying Houses & Agents, Buying missions from neighboring regions
CEO, Engineers, and Technocrats
Dealers
Design Studios & Institutes
Designers
Knitting Manufacturers
Merchandisers
Agents, Distributors, Manufacturers
Trade Associations, Trade Body Representatives
Wholesalers & More…
Show Contact
Contact:
Ahmed Imtiaz
Telephone:
+8801819863286
Fax:
ORGANIZER PROFILE

Company:
RedCarpet365 Ltd
City/State
Dhaka,
Country:
Bangladesh
Business Type:
Trade Shows Organizer
Established:
NA
Member Since:
2015
Contact Person
Ahmed Imtiaz
ORGANIZER PROFILE
City/State/Country -
Dhaka,
Bangladesh

Business Type -
Trade Shows Organizer
Established -
NA
Member Since -
2015
Contact Person -
Ahmed Imtiaz