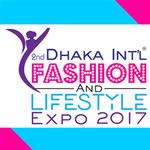 2nd Dhaka Int'l Fashion & Lifestyle Expo 2017
| | |
| --- | --- |
| Date: | May. 09, 2017 - May. 13, 2017 |
| Venue: | Uttara Ladies Club, Dhaka, Bangladesh |
| Address: | H - 8, Rd - 8, Sector- 1, Uttara Model Town, Dhaka – Bangladesh |
| City, State/Prov.: | dhaka |
| Country: | Bangladesh |
Show Details
| | | | |
| --- | --- | --- | --- |
| No. of Exhibitors: | 400 | No. of Attendees: | 5000 |
Trade Show Information
With continuous success in Previous 9 editions of Fashion Apparel, Jewelry & Ready Made Garments (RMG) expo, RedCarpet365 Ltd organizing another branded Exhibition as '2nd Dhaka Int'l Fashion & Lifestyle Expo 2017', from 09 ~ 13 May 2017 at Uttara Ladies Club, Sector 1, Uttara, Dhaka – Bangladesh. The domestic market of consumer fashion & lifestyle products is expanding day by day. This exhibition will be Showcasing best Fashion & Lifestyle Products from entire South & South East Asia. It's also targeted to huge Eid ul Fitr shopping & carrying a slogan as "Explore your Fashion & Lifestyle". This event would project quality Fashion & Lifestyle Products to the visitors from home and abroad. The local manufactures from different areas of Bangladesh will also participate in International Exhibition; will have the opportunity to display their products & services to the buyer.
The consumer market for Fashion & Lifestyle is booming, keeping the same in concern the event designed to get more B2B & B2C visitors. We are targeting the Best Buy Community as visitor, who have the most buying capability & positively placed the Venue in that area.
Manufacturers & Producer can make the best use of this Fair Platform to introduce their latest range of quality products while buyers can take a closer look, at what they offer and discover its potentials. Both parties can take advantage of the occasion to pursue future business prospects and investment opportunities. Besides, the participants will be able to identify business contacts with prospect of entering into subsequent business negotiations before Eid ul Fitr, So it's time to note the date at your scheduled diary and use above discussed opportunities by being a part of '2nd Dhaka Int'l Fashion & Lifestyle Expo 2017'.
Exhibitors Information
Fashion Products
• Apparel & Clothing [Women]
• Designer Sarees
• Jewelry & Accessories
• Traditional Sarees
• Fashion wear
• Designer Bags
• Designer Shoes
• Fotuas
• Knitwear
• Kurtas
• Lawns
• Women's Wear
• Online Boutiques
• Premium Clothing
• Readymade / Woven garments
• Salwar kameez,3pcs
• Shawals Lifestyle Products
• Art & craft
• Beauty Products & Equipment
• Automobiles [Cars & Bikes]
• Home Décor & Home textile
• Smart Phone / Mobile / Laptop
• Home Appliances
• Furniture & Electronic Products
• Cosmetics & Beauty Aids
• FMCG Products
• Foot ware
• Perfumes
• Consumer Electronics
• Cooking Range & Kitchen Ware
• Gift & Novelty Items
• Handicrafts
• Leather Goods
• Services
Attendee Information
'2nd Dhaka Int'l Fashion & Lifestyle Expo 2017' –looking forward to visitors from entire Bangladesh & Neighboring countries from different sectors like Consumers, End Users, Distributors / Resellers, R&D, Government / Regulatory Authority, Media / Entertainment, Small & Medium Enterprises, Venture Capitalists, Export Import Marketing, Business and Trade Channels, Alliances & Networks, Renowned Business Houses, Fashion Designers, Interior Designers, Architects and Consultants, Retailers & Distributors, Manufacturing houses, Supplier of Fitness Products, Wholesalers, Dealers, Manufacturers, Importers & Exporters, Cosmeticians, and General Public.
Show Contact
Contact:
Ahmed Imtiaz
Telephone:
+8801819863286
Fax:
ORGANIZER PROFILE

Company:
RedCarpet365 Ltd
City/State
Dhaka,
Country:
Bangladesh
Business Type:
Trade Shows Organizer
Established:
NA
Member Since:
2015
Contact Person
Ahmed Imtiaz
ORGANIZER PROFILE
City/State/Country -
Dhaka,
Bangladesh

Business Type -
Trade Shows Organizer
Established -
NA
Member Since -
2015
Contact Person -
Ahmed Imtiaz