Articles, Guides & Books
Selecting Business Partners
Friends do not always make the best business partners. It is false that friends can always help in time of business needs. It is true that some partners undercut other partners in business...
Small Business Handbook (PDF)


Handbook to help small business employers meet the legal requirements imposed by the Occupational Safety and Health Act of 1970.
Starting an Export Business
In exporting, it is not a prerequisite for a business to sell to its domestic market before selling abroad. There are many successful export-traders and export-manufacturers, notably in Asia, who have been selling their products entirely to the foreign markets...
The Role of Export-Traders and Buying Trend
Export-traders play a crucial role in international trade. Prior to the 1970's when export product quality was a common problem in many less developed countries, foreign buyers relied on export-traders for product sourcing and pre-shipment inspections...
Types of Export Businesses
Export businesses are mainly classified into export-traders, export-manufacturers and service-exporters...
Use of Terminology in Different Countries
The use of terminology differs from country to country. The term salesperson is easy to decipher as the salesman or saleswoman, but it is a term that is unheard of in some countries...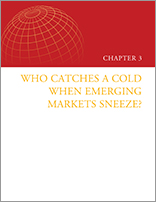 Who Catches A Cold When Emerging Markets Sneeze?


Since 2010, a synchronous growth slowdown has been underway in emerging markets. Given the size and integration with the global economy of the largest emerging markets, the BRICS (Brazil, Russian Federation, India, China, and South Africa), a slowdown in these economies could have significant spillovers to the rest of the world through trade and financial flows, according to the January 2016 issue of Global Economics Prospects.
Why a Local Marketing Campaign is a Vital Component of a Successful International Import Strategy
As an importing infrastructure, successful international marketing is a pre-requisite to expand your business on a worldwide level. There are numerous ways of achieving this, but the most important role in this regard is played by imports and exports.